Match A Resident's Interview Feedback
Wouldn't it be great if you could get some insider information about what your interview with a program might be like? How did past interviewees feel about the program when they were there? What didn't they like about their experience?
That's exactly what you get with Match A Resident's Interview Feedback. Scroll to the bottom of a program profile, and you'll see all the reviews for that program that we have from past members who interviewed there. Here's an example: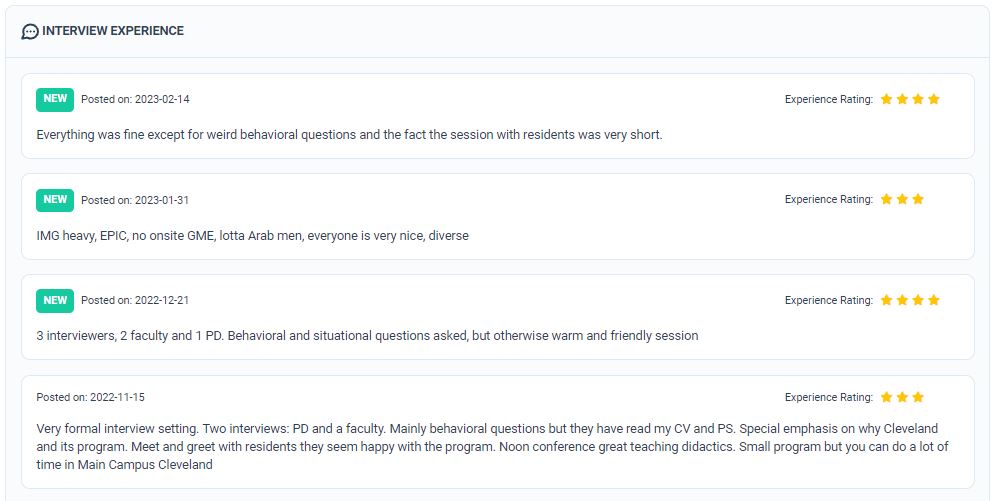 Interview Feedback can include impressions of the program, the interviewers (both positive and negative), what types of questions were asked, what the format of the interview looked like, and details about the program that are often not available through websites.
Why Use Match A Resident's Interview Feedback?
At Match A Resident, we want you to be as prepared as you can be. Any information is helpful in feeling more prepared for what you are walking into!
We also want you to make the best choices when you rank programs, too. You need as much information as you can get in order to decide what place is the best fit for you. Use this feedback to your advantage and look out for things that are important as you're exploring how the program feels to you. Are some negative comments confirmed during your interview? Do they seem as positive as others have said? Maybe there's a question you'd like THEM to answer based on the feedback that will help you determine how you feel about them. Remember, you are interviewing them and ranking them too!
You can access interview feedback on your program list when you purchase any Match A Resident subscription. Get started here.
Let us know if you have any questions about this feature or anything else. Make sure to also check out our other articles and videos on how to get prepare for your interviews!